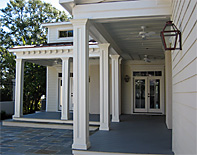 Now that many homeowners and home builders and switching to PVC porch columns and other durable materials for crawl space doors, attic access doors and various elements of a home, you are sure to find many websites and businesses cropping up claiming to sell the 'best products'. It can be hard to tell which seller is genuinely experienced and has knowledge of these materials and products. Almost anyone can claim to be an expert on something but of course, not everyone is. When you're shopping for porch columns, dormer doors and other such critical architectural components for your home, it is very important that you do your research and choose a company that can back up its claims with professional expertise, knowledge and prompt, courteous customer service. In the day and age of instant websites, a wall of anonymity is easy to maintain. It is your responsibility as the consumer to know who you're buying from and to decide for yourself if they are trustworthy.
So, what should you look for when sourcing your PVC porch columns, dormer doors and other curb appeal products online?
First of all, you should know where to look. It is then easy to figure out what to look for.
About us page: This seemingly insignificant page can tell you more than you would think. For one thing, many websites don't even have one, so it's very hard for you to learn anything about the company there. Others simply have a few lines up that don't tell you anything about the business, its founders, history, background or even its geographical presence. When you read a good 'About us' page, you should get the feeling that the owner or someone who runs the company is speaking to you. It should feel like they understand why you're visiting their page, what you're looking for and it should be clear that that they are trying to provide you the answers. The words on a good About us page sound knowledgeable without sounding condescending and convincing without sounding like a sales pitch. In other words, the page tells you their story and why they're passionate about what they do and why they believe they can solve your challenge. So, when you're looking for PVC porch columns, be sure to check out the About us page of the company you're planning to buy from, learn a little about their background and experience, read their story and what they have to offer and see if it resonates with you.
Testimonials: Most websites have customer testimonials for you to read. Do check these out and look for patterns in the comments. Do the customers talk about prompt delivery or quality, customer service or variety? These are not the only ways to judge a company but they're part of the puzzle when choosing curb appeal products such as PVC crawl space doors. It is safe to assume that if people have taken the time to write about how their problem was solved, then they must have been impressed to some degree.
FAQs: An FAQ page can tell you a whole lot about a company, how it operates, its products, what type of questions or challenges its customers may have faced in the past, what the company did to resolve them and other such details. It may answer some of the questions you have. Many websites may not have one, but if they do, be sure to check this page out.
Reviews: Besides customer testimonials, you may also see reviews of companies on forums and review websites such as Yelp. Take some time to read these, but be aware that not all reviews may be genuine. Always take these with a grain of salt. If anything, note down questions or concerns you see on these reviews and ask them when you get in touch with a customer service representative at the company.
Blog and Social Media Presence: A company's blog is a great place to find answers to your questions. A well-written, frequently updated blog reflects the company's attitude towards business and its customers. A blog benefits the website's online presence, but it also helps potential customers find answers to their questions and provides them a platform to interact, ask questions. The same holds true for social media. An active social media presence does not always indicate that a company is responsive to its customers' needs and challenges, so follow the company on social media for a few days and decide for yourself how well they respond to customer queries.
Customer Service: You probably won't be buying PVC porch columns and attic access doors again for a long time, so when you do, be sure to get it right. Talk to the people behind the website before you make your decision. Ask questions. Get your doubts clarified. Ask for photographs and samples wherever applicable. With things like porch columns, discuss installation and how easy or complex it is. The quality of customer service can tell you just about all you need to know about the reliability and authenticity of a company. Whether it's over phone or email, if you find that a company's customer service personnel are knowledgeable, able to answer your questions or at least get back to you with the answer at a later time, if you find that you are always treated with respect and courtesy and that nobody tries to oversell, chances are you have found a company you can trust to sell you high quality architectural and curb appeal products.
What do you look for when shopping for porch columns, dormer doors and other elements for your home?