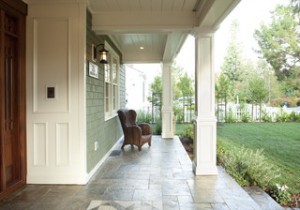 Fine looking porch columns and fantastic curb appeal are every homeowner's dream. It takes a little planning and effort to keep the exteriors of your home looking like new.
Many homeowners make these common mistakes in maintaining the appearance of their home. If you're one of them, you'll be pleased to know that they're easy to avoid and fix!
1. Poorly maintained garden or front yard: If you don't have the time or inclination to maintain your outdoor space, it's best to keep it simple. A clean yard with no flower beds and minimum landscaping is far more pleasing on the eye than one with overgrown bushes and unkempt grass. Put off your gardening experiments until you can devote a little time to your yard on a consistent basis or have the budget to outsource it to a professional. Until that time, don't let an untidy lawn detract from your otherwise lovely home.
2. Odd paint colors: Your home's paint colors are a matter of personal choice, however, keep in mind that this will have a huge impact on your home's overall curb appeal. If you choose very bright or bold colors for your exterior walls, ensure that it makes your home pop tastefully and doesn't seem too gaudy. To be safe, try the paint on a smaller area as an accent color and see how you like it over the course of a few days. The paint color of the neighboring homes is also something to consider, as your home's paint colors could impact the overall appearance of your street and neighborhood as well. An alternative way to make a bold style statement with your home is to paint your front door an attractive, contrasting color instead of the entire wall.
3. Rotting porch columns and railings: If you have wooden columns or deck railings, you need to take proper care of them to ensure they retain their beauty and function well. These structural elements add character to your home and are often the first things that catch one's eye. Exposure to insects, moisture and air can damage them considerably. If you are unable to keep up with the periodic paint and seal treatments and maintenance they need, consider replacing them with PVC porch columns and railings. These require no maintenance, last many years and look brand new regardless of weather conditions.
4. Improperly sealed foundation spaces: The crawl space under your home may not be the first thing on your mind when you think of curb appeal, but it is one of the most important factors in ensuring you enjoy peace of mind at home in the long run. A crawl space that is improperly sealed with a homemade door looks unsightly, but even worse, it lets in pests and moisture and allows extensive energy wastage. Sealing this space with a high quality crawl space door is one of the easiest ways to prevent energy wastage and lower your bills. It also ensures that your crawl space is free from unwanted elements such as rodents and insects. A simple, yet attractive crawl space door improves your curb appeal instantly.
By avoiding these common mistakes, you can create and maintain a stunning curb appeal for your home. How much work you need to do to keep your deck railings, column wraps, balustrades and other elements looking beautiful depends on the materials you've chosen, the usage and the environment you live in.