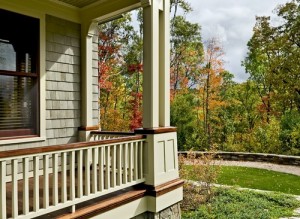 When you're choosing railings for your deck, patio or stairs, the choices can be overwhelming. There are plenty of materials, styles and price ranges to consider. From safety glass to wrought iron, galvanized steel to classic wooden railings, you will come across just about every kind of material. It's important to factor in your budget, personal taste and the amount of maintenance work you're willing to put in before you choose railings for your home. Each material has its distinct advantages and drawbacks.
In recent years, more and more people are leaning towards PVC railings.
With free time being in short supply, taking care of railings and porch columns is becoming more challenging. People are opting for low maintenance or maintenance-free, weather-proof materials wherever possible. Synthetic railings such as those made of PVC are among the most durable and long lasting. Once installed, they need virtually no maintenance.
PVC railings are resistant to water damage. They do not need to be treated for mildew, rust or insects. High quality vinyl railings do not fade even with continuous exposure to sunlight. They can  withstand extreme temperatures and are built for both indoor and outdoor use. So, whether it's your porch or the stairs inside your home, these railings make a great choice with regards to safety. Being lightweight, they are easy to assemble and install too. You can even order a fully assembled railing panel.
The other interesting aspect to vinyl railings is that they may be customized to suit your space. They can be cut to the height you want. You can choose styles that complement the other elements of your landscape such as porch columns and pergolas. Custom railing styles and designs make it easy for you to use them as decorative accents for the front of your home. They are ideal for use on balconies. In combination with turned or square balusters, these railings add distinctive elegance to any part of your home.
You do have to consider that well-crafted, high quality PVC railings may be more expensive than wood. However, there is likely to be literally zero maintenance cost for years to come and so it is a choice that will pay off in the long run. This is especially something to think about if you live in a wet or humid place where wooden railings could require frequent treatment. The additional cost of PVC railings may be well worth the peace of mind you enjoy in terms of freedom from maintenance.
If you have questions about railings, porch columns or other curb appeal products, please free to send them our way and we'll address them.